Press Brake Tooling
The correct selection of Press Brake Tooling is the key element in achieving high-quality sheet metal components and maximising machine efficiency.
Webster Machinery has unrivalled experience in this field and together with our tooling partners, we can provide the optimum solution to your bending problems. We can supply tooling for any make of press brake, at very competitive prices.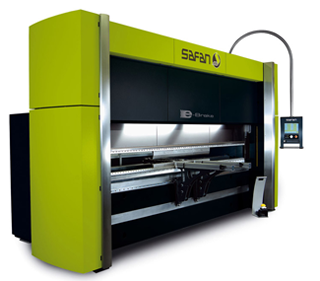 EUROSTAMP Catalogue
The EUROSTAMP catalogue shows tools for the majority of machine types including:
Amada-Promecam, Trumpf (Wila), Safan, Bystronic (Edwards-Pearson / Beyeler), Adira, Guifil, Durma, Ermak, and Baykal.
A number of modern high specification machines including LVD and the Safan E-Brake, are now using the WILA 'New Standard' system, which can also be supplied (details on request).
Click here to download the EuroStamp Press Brake Tooling brochure.

Our Experience
D J Webster Machinery Ltd is a UK based company, established over 40 years ago and is principally engaged in the sale of sheet metal machinery and tooling. Our tooling sales have been growing year by year and we now have many customers in the UK, European and worldwide.
Our Process
All our tools are manufactured from special carbon steel, which is induction hardened to 55-60 HRC on working surfaces. All tools are finish ground then individually inspected prior to packaging in specifically dimensioned sturdy plywood boxes. The grinding process, considered critical to obtain optimal results, has been developed by the production team in every detail, from the wheels to the working speed, piece placements and finally the finishing process. A large range of high-quality grinders ensures an accurate and consistent finished part each and every time.
Our Stock
We stock a large range of standard models in the warehouse to make sure tools can be despatched as soon as required. In addition to upper and lower tools, we offer a wide range of additional press brake equipment. This includes die holders, manual and pneumatic clamping systems to suit most press brake manufacturers, tool holders, extension pieces of various lengths and widths and adapters. A selection of tool cabinets with optional dividers choices.

Thanks to our technical office, we can now also offer bespoke tool design options to solve some of the less common folding problems. These may vary from a special radius to a tool that performs more than one fold in one upper beam movement. We supply a large selection of standard and special tools for all the well-knew manufacturers. Adira, Amada, Beyeler, Bronx, Cincinnati, Darley, Edwards-Pearson, Gasparini, Guifil, Haco, KB, LVD, Medusa, Mega form, Promecam, Pullmax and Satan. All tools are manufactured from special carbon steel, which is induction hardened to 55-60 HRC, then the working surfaces are ground to a tolerance of +/- 0.02mm.
A full 90-page colour catalogue with tool dimensions and illustrations is available on request.

For a copy please enquire, or call 01628 529724 to order your copy.
Special tool designs can be produced to manufacture unusually shaped components. Please call our experienced technical sales department for assistance
Used Machinery
From 35 to 1250 tons and 1,250 to 6,220mm bed sizes.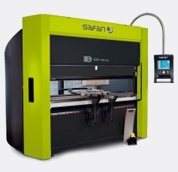 View
High speed production guillotines from 2,050mm to 6,100mm.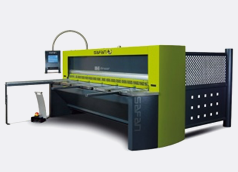 View
Tooling to suit all press brake types.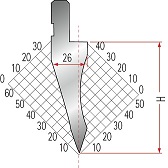 View